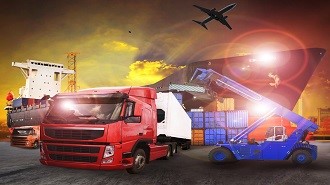 The Best Logistics Company
Introduction
Do you need the services of the Best logistics company in Kuwait? Al Qabandi & Partners Co is the go-to provider for all modes of transportation, whether by air, sea, or land. We offer comprehensive logistical support, and we use cutting-edge technology to expedite and ensure the safe arrival of your shipments.
The Biggest Logistics Company
Since sending goods across all distances by sea is the most efficient method, Al Qabandi & Partner Co, the top logistics company in Kuwait, offers a comprehensive sea freight system.
If LCL, wherein your goods occupy only a portion of a container that is shared with other shipments, is more cost-effective for you, then that's the form of ocean freight you should go with.
Or via FCL, wherein one complete container is utilized; thanks to our company's extensive history with and frequent business with the carrier, we are able to secure advantageous rates and a well-regarded service agreement.
You can tailor sea freight to your specific needs by selecting from the following categories, each of which is based on the sort of products being shipped:
Container ships may carry anything from 1 to 17 thousand containers, and they are designed to transport commodities in ISO containers.
Ships that carry coal and construction materials in large quantities (up to 20,000 tons) are called bulk carriers.
Liquid cargo ships carry fluids including crude oil, refined petroleum products, liquid foods, and even natural gas.
Transporting perishable goods such as meat, fish, dairy products, vegetables, and fruits is made easier with the help of refrigerated containers. Timber transporters are built specifically to carry logs, steel beams and windmills.
Customers value low shipping and transportation costs just as much as reliability, on-time delivery, and safety, which is why Al Qabandi & Partner Co offers the most affordable logistics services in Kuwait.
With the help of the cutting-edge technology and extensive network provided by the company, you will be able to fine-tune your shipping plan to meet the unique requirements of your container.
Whether or not the truck is completely loaded. We promise timely, secure delivery of your land freight, and we provide the following options:
Both large and small trucks are used in trucking, with the size of the truck depending on the volume of products being moved.
Heavy trucks of varying varieties, such as Box trailers, Flat-bed trailers, Low-bed trailers, SPMT, Car carriers, and Semi-trucks are all provided by Al Qabandi & Partner Co to the Best logistic company in Kuwait.
Conclusion
Get in touch with Al Qabandi & Partner Co right away so you can take advantage of all the state-of-the-art facilities and its strength as a forwarder with the fact that it operates the most reliable logistics company in Kuwait. Alternatively, you might go to the company's main website to check all of the services that are offered and select the one that best suits your requirements.
---
---